The theme of IDAHOT 2019 in Hong Kong is "Biphobia", with Pink Alliance in Hong Kong organising a series of events to help educate the public about the double discrimination bisexual people face from both the outside world and within the LGBT+ community.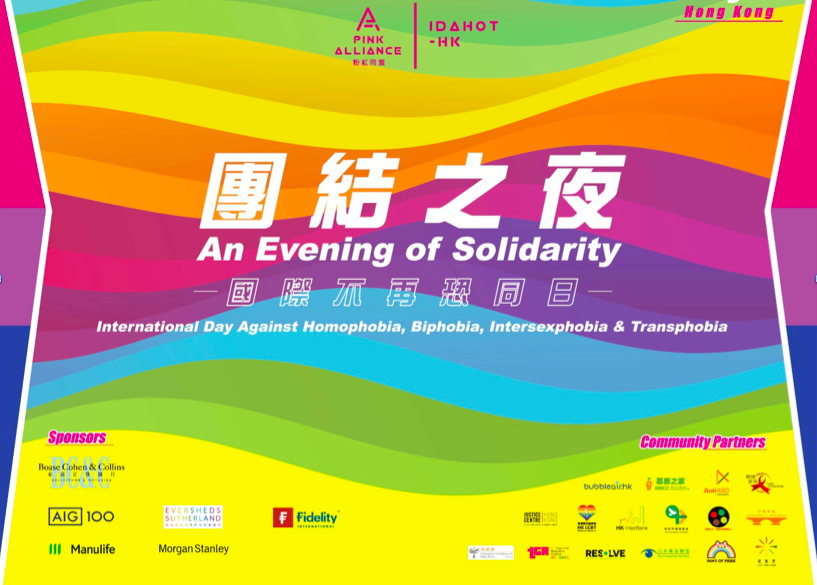 On May 17, Pink Alliance will be organising the flagship event, "An Evening of Solidarity" to commemorate the actual anniversary of IDAHOT at Chater Garden, which includes keynote speech by Equal Opportunities Commission Chairperson Mr. Ricky Chu, sharing by Queer Reads Library and queer activists, a belly dance, performances by lesbian singer Nokyan Ma, gay band Hi-5 as well as LGBTI+ choir The Harmonics, and also a DragJam. 
In addition to the main event on May 17, Pink Alliance has also held a series of events such as bisexual movie screening, school discussions and talks by anti-gay conversion therapy activist and nuclear scientist Sam Brinton. Currently, we are calling for artwork featuring homophobia and biphobia, which may be in any form spanning digital art to poetry. There is also an ongoing call for stories from bisexual individuals who may choose to submit an account of their journey and experiences anonymously or otherwise, to be published on the social media accounts of Love Unbounded, a bisexual group.
These events aim to raise awareness on homophobia and biphobia in the community. There are many challenges for the LGBTI+ population in Hong Kong, from the lack of anti-discrimination legislation protection to the substandard protection provided by the existing gender recognition law and same sex- marriage legislation. The progress is slow for LGBTI+ movement in Hong Kong and Hong Kong is lagging behind most developed countries. The issue of biophobia is even more pressing, as bisexual people face discrimination both within the LGBTI+ community and in mainstream society.
Through these IDAHOT events, Pink Alliance intends to make Hong Kong a more inclusive and harmonious community. Other than our corporate sponsors, there are over 10 NGOs in Hong Kong which will be supporting Pink Alliance's events.
More information on the event HERE
Idahot hk's presentation on slideshare
Organisers have edited a great resource info and mobilisation kit on Biphobia in both Chinese and English: