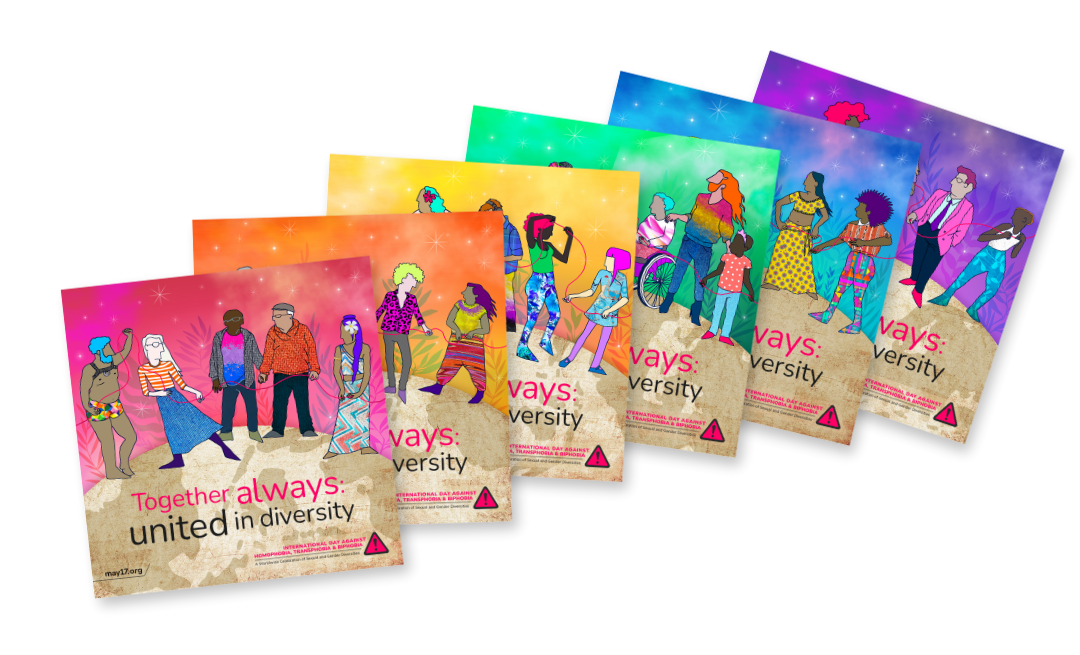 IDAHOBIT 2023:
The official campaign illustrations are out!
We are excited to share the illustrations for the 2023 International Day Against Homophobia, Transphobia, and Biphobia!
Based on this year's theme, "Together always: unity in diversity," Chilean artist Sofía Miranda Van den Bosch created six illustrations that incorporated feedback from LGBTQIA+ organisations and activists from across the world who have joined the IDAHOBIT working group. We hope these illustrations will resonate with our communities and allies as much as possible.
You can use the illustrations on social media, websites, or print materials to spread the word about the International Day Against Homophobia, Transphobia, and Biphobia and raise awareness about the importance of equality and inclusion for all.
The illustrations are available for download in different languages. If you wish to help us translate them into a different language, please reach out to us. If you wish to print them for your in-person event, please contact us at contact@may17.org or idahobit@ilga.org and we will make them available in higher resolution.
You can also help us invite the public to register their events, help us translate the theme, and check out the new illustrations. Visuals are available for use in different formats.
At a time when hard-won advances for our LGBTQIA+ communities around the globe are increasingly under threat, the power of solidarity, allyship and community across identities, borders, and movements has never been more necessary.
We believe that everyone deserves to be treated with respect and dignity. These illustrations are a simple yet powerful way to show your support for the lives and rights of LGBTQIA+ people around the world.
When we unite, in all our beautiful diversity, that's when we can really bring about change! Join us in celebrating diversity and promoting social justice by downloading and using these illustrations on this International Day against Homophobia, Transphobia, and Biphobia!