Note on event listing: Due to limited capacity, we are not able to provide a comprehensive overview of the hundreds of events that will take place worldwide. We list on this site the information that was directly sent to us (without edits).
During the "season" of the International Day Against Homophobia, Transphobia and Biphobia, which traditionally stretches over 10 days around May 17, we will report more extensively on social media on worldwide activities. Please connect with us on Facebook, Twitter and Instagram.
If you are aware of any event that is not listed here, please send us an email.
---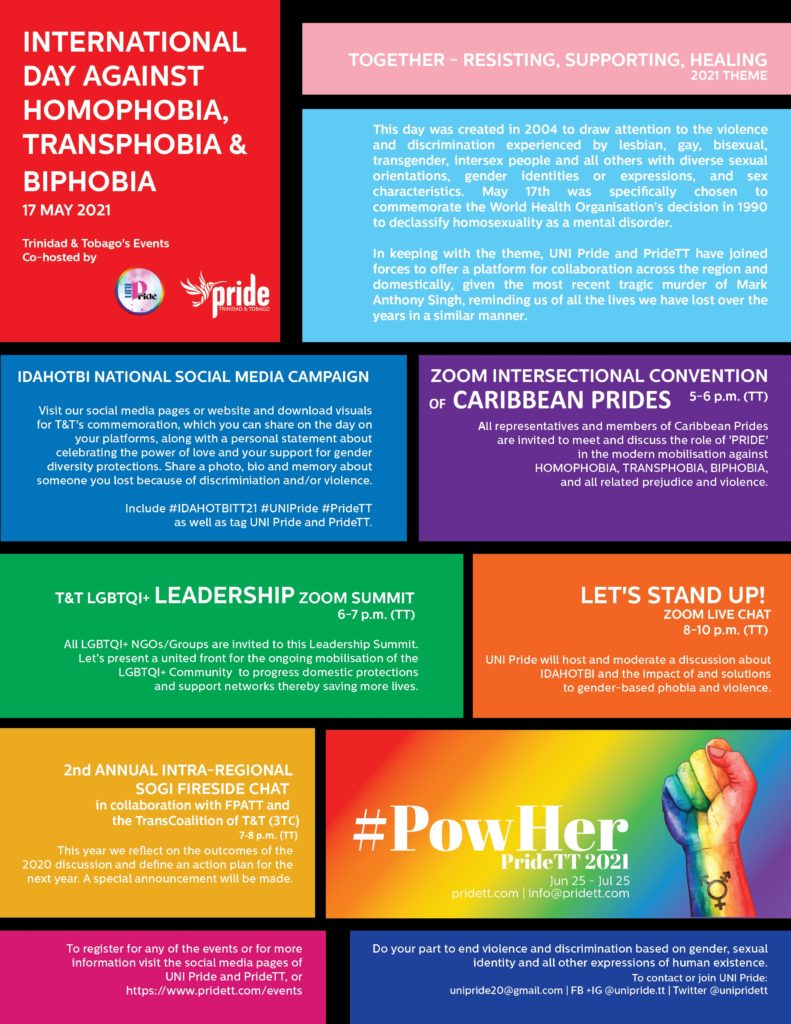 Activity 1
IDAHOTBI National Social Media Campaign
Community Members and Allies are invited to visit our social media pages or website and download visuals for T&T's commemoration, which they can share on the day on their platforms, along with a personal statement about celebrating the power of love and your support for gender diversity protections, including #IDAHOTBITT21 #UNIPride #PrideTT
Activity 2
ZOOM INTERSECTIONAL CONVENTION OF CARIBBEAN PRIDES 5-6 p.m. (TT)
All representatives and members of Caribbean Prides (Bahamas, Barbados, Bermuda, Guyana, Jamaica,  St. Lucia) have been invited to meet and discuss the role of 'PRIDE' in the modern mobilisation against HOMOPHOBIA, TRANSPHOBIA & BIPHOBIA and all related prejudice and violence.
Activity 3
T&T LGBTQI+ LEADERSHIP ZOOM SUMMIT 6-7 p.m. (TT)
All established and emerging LGBTQI+ NGOs/Groups have been invited to convene a 'Leadership Summit' where they can present a united front for the ongoing mobilisation of the LGBTQI+ Community to progress domestic protections and support networks.
Activity 4
2ND ANNUAL INTRA-REGIONAL SOGI FIRESIDE CHAT 7-8 p.m. (TT)
Hosted in collaboration with FPATT and TransCoalition of T&T (3TC) to reflect on the outcomes of the 2020 discussion and will define an action plan for next year.
Activity 5
LET"S STAND UP! ZOOM LIVE CHAT 8-10 p.m. (TT)
UNI Pride will host and moderate a discussion about IDAHOTBI and the impact of and solutions to gender-based phobia and violence.