Note on event listing: Due to limited capacity, we are not able to provide a comprehensive overview of the hundreds of events that will take place worldwide. We list on this site the information that was directly sent to us (without edits).
During the "season" of the International Day Against Homophobia, Transphobia and Biphobia, which traditionally stretches over 10 days around May 17, we will report more extensively on social media on worldwide activities. Please connect with us on Facebook, Twitter and Instagram.
If you are aware of any event that is not listed here, please send us an email.
---
Event: Show Drag – Marcha por tus Colores
Direction: Parque de las Americas
Date: 15/5
Time: 17hrs
Info: Es un placer invitarles al Show #MarchaPorTusColoresDrag! Nos vemos todxs este fin de semana para conmemorar el Día Internacional contra la Homofobia, la Transfobia, la Bifobia y la Diversidad Sexual.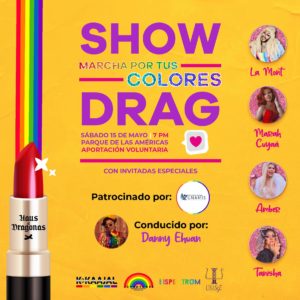 ---
Event: Concert, Latin American Music, Galería Correo 24 con Katy Chan,
Direction: Correo 24, Zona Centro, San Miguel de Allende, Guanajuato, México
Date: May 17
Time: 19:00 hrs
Info: Dear community of SMA! We invite you to join us to celebrate life, freedom and love with a concert of Latin American music and tango with Katy Chan in commemoration of the International Day Against Homophobia, Transphobia and Biphobia. It's an important day to raise awareness of LGBT rights through music, art and dialogue. Presented by Galeria Correo 24 and Art Tours SMA. Monday, May 17th 19:00
¡Querida comunidad de San Miguel de Allende! Los invitamos a celebrar la vida, la libertad y el amor con un concierto de música latinoamericana y tango con Katy Chan en conmemoración del Día Internacional Contra la Homofobia, Transfobia y Bifobia. Es un día importante para crear conciencia sobre los derechos LGBT a través de la música, el arte y el diálogo, Galería Correo 24 y Art Tours SMA se suman a esta ocasión especial! Lunes 17 de mayo 19:00
---
Event: Besoton/Festival por la Diversidad
Direction: Online Marcha LGBTI CDMX
Date: 17/5
Time: 20hrs
Info: El próximo 17 de Mayo no puedes perderte la 7ma edición del "Besotón/Festival por la Diversidad", una conmemoración virtual del "Día Internacional contra la Homo-Lesbo-Bi-Transfobia", juntxs celebremos la diversidad sexual y de género, celebremos el poder del amor.
#IDAHOTB2021
---
Event: Derechos LGBTQI+ Todxs en Acción
Direction: Online https://t.co/nTy8iXAnpn?amp=1
Date: 17/5
Time: 10hrs
Info: Este 17 de mayo, invitados de Francias, Alemania, Mexico, Argentina y Colombia te dan cita en línea para abordar la cuestión de los derechos #LGBTIQ+ bajo muchos ángulos.3 mesas redondas en nuestro Facebook Live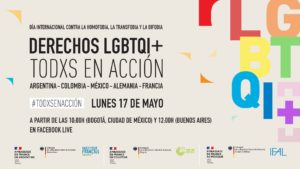 ---
Event: 1° Jornada contra la Homofobia, Transfobia y Bifobia en la ENES Mérida
Direction: Online
Date: 17 al 21 de Mayo
Info: Aparten sus tardes del 17 al 21 de mayo porque en la ENES Mérida de la UNAM les tenemos unos eventos para la semana del Día internacional contra la homofobia, transfobia y bifobia que harán volar sus pelucas #IDAHOTB