Many events took place throughout the country
The Day was particularly marked in numerous Universities


Theme: Voice for Love

Organizer: Cai Fan Union
Event Description: Conducted outdoor advocacy on university campuses, including taking photos with slogan cards, writing down best wishes in exchange for rainbow-colored wristband and other activities.


Theme: Rainbow Location Shots
Organizer: Rainbow Group of Universities in Guangzhou
Event Description: Took photos with slogan pictures provided by the organizer at specific locations and displayed these photos on the WeChat platform.

Theme: Walk Out with Rainbow
Organizer: WDK Purple
Event Description: Distributed 300 rainbow flags and 200 tattoo stickers on campus and invited students to display them on 5.17.

Theme:The Days of Our On-Campus Gender Organizations Years
Organizer: Colorsworld
Partnership Organizations: WDK Purple; SGS
Event Description:Invited the initial organizers of PKU, Tsinghua and RUC's gender pluralism groups to share and discuss their gains and obstacles encountered in exploring organization development with 50 audience on 5.17.

Theme: Sign on Rainbow
Organizer: Wu Tong She
Event Description: Collected lgbt-friendly students' signatures on rainbow flags.



Theme: Wear the Rainbow Flag
Organizer: Four students from the Affiliated High School of PKU
Event Description: Invited students of all gender orientation and identification to wear t-shirts with rainbow flag print on campus on International Day Against Homophobia and with the hope that they may send a heart-warming message through this simple method to friends for whom this day may carry special significance.




Theme: Screening of the Documentary Small Talkand Q&A with the director
Organizer: Common Language
Partnership Organizations: The French Institute in Beijing, the Embassy of Sweden and etc.

Event Description: Screened the Documentary Small Talkand held a discussion session with the director Huizhen Huang, Qingsong Cheng, Xiao Shi and Yuan Yuan and a Q&A session with the audience.

Theme: Public Display of Affection at "the Center of the Universe": a street experiment
Organizer: Beijing LGBT Center
Event Description: Volunteers wore t-shirts with the slogan "I'm gay" and eye masks and waited for hugs from passersby. Same-sex couples held placards with the same slogan and invited passersby to take photos with them.This experiment was conducted on street and live-recorded as VR videos.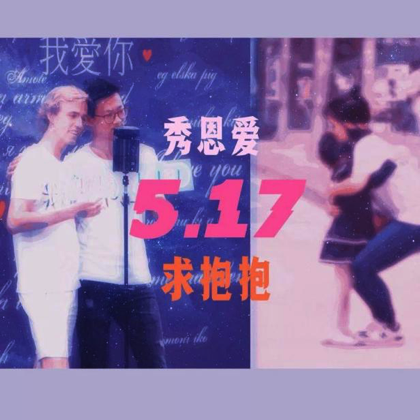 Theme: 22 Cities and 369 Businesses stand with LGBT
Organizer: PFLAG China


Event Description: PFLAG chapters in different cities found 369 LGBT-friendly businesses in 22 cities nation-wide and posted "Love is love / 勇敢爱 (Love bravely)" slogans on conspicuous spots in their physical shops.

Theme: Get A Rainbow Badge and Free Hugs
Organizer: Piao Quan Jun


Event Description: Provided free hugs and rainbow badges for participants in 798 Art Zone on 5.13. The event generated great participation, with many brought their own decorative objects with rainbow elements and distributed them freely to street participants.


Theme: Run for Love 5.17
Organizer: Six-colored Rainbow


Event Description: Invited the public to share running photos and screenshots of a 5.17 KM running mileage hashtaging #517RunForLove on the eve of 5.17 as a way to fight against discrimination and celebrate 5.17.

In Shanghai, the now traditional IDAHOTB Bike Ride opened the Pride Festival
Full report in pics HERE