Australia is among the countries where May 17 is celebrated most vividly, often under the acronym IDAHOBIT. We only list the events registered on our site but there are many more around the country. More information is available via various Facebook pages of Australian LGBTQI organisations and media

National
The national Youth Movement Minus 18 has made May 17 one of their central days of action. They are powering the idahobit.org.au site, which mobilises mainly young people to take action. This year, they announced that they registered almost 1000 events across the country!
Brisbane
The Powerhouse will host a remembrance gathering on Friday 17 with special guest speakers, a memorial ceremony, lighting of the building and a musical tribute.
Open Doors Youth Service is holding an afternoon picnic in New Farm Park for the LGBTIQAP+ Sistergirl and Brotherboy communities to celebrate our resilience and diversity, create and strengthen connections in community, and share food and games together.
USQ Springfield campus is holding a day of LGBTI celebration with cupcake decorating.
Melbourne
Rotary will host a special evening of celebration and contemplation at St Kilda Town Hall on Friday, featuring Victoria's Commissioner for Gender and Sexuality Ro Allen and local LGBTI performers.
Dustin Halse MP is hosting a barbecue and afternoon tea in Ringwood, collecting donations for LGBTI charities.
Victoria University Footscray Park campus is holding a free event with sausage sizzle, games, live performances and more.
Inner North Rainbow Playgroup and No Lights No Lycra are holding a family-friendly rooftop disco for the LGBTI community and friends on Saturday 18.
Shepparton
La Trobe University is hosting a free barbecue lunch from 12 to 1:30 pm on Friday.
Warrnambool
The Warrnambool Art Gallery is holding a flag raising and social gathering for IDAHOBIT on Friday evening.
Sydney
Macquarie University is hosting a day of events on Thursday 16, including a bake sale, gender expression and makeup session, drag trivia and queer stories.
The Postgraduate Council UNSW is holding a morning tea on Friday to celebrate the day and to discuss the measures that can be taken to build a great environment which respects and supports the communities independent of race sexuality and gender.
Trans Action Warrang will host a film screening of Criminal Queers at the Red Rattler Theatre next Thursday 23.

Adelaide
The Queer Society will join Amnesty International on Friday evening to host a community vigil at Elder Park for those who have suffered anti-LGBTI discrimination and hate.
Pride of the South is holding an afternoon event with snacks and speeches at Mick O'Shea's Irish Pub in Hackham on Sunday 19.
HobartParagraph
Working It Out will host a buffet breakfast with special guest speakers. Ticket sales close at 5 pm today (Monday).

Darwin
On the 17th May is an important day in the calendar as it celebrates International Day Against Homophobia, Biphobia and Transphobia (IDAHOBIT), at Charles Darwin University, following on from the very successful event last year, an event was organized in order to broaden the inclusivity and bring another entertaining, insightful and delicious production. It begun at 10 in the morning in Blue Precinct, Building 2, Room 2a at CDU Casuarina Campus
The theme for this year's event is "Celebrate the Power of Love"
There will be cupcakes available via gold coin donation (proceeds donated to PRISM, a youth driven network for LGBTIQ youth right here in the NT), and a light morning tea made available, also by gold coin donation.
The event was free and sponsored by NTAHC, QUTE, supported by Drag Territory, Dr Belinda and local community members.
Victoria
An event was organized at Warrnambool City Council on May 17 at 5:45pm which saw the raising of the pride flag, which at 6:00pm deviated to the Warrnambool Art Gallery for a tea, coffee and chat.
Perth
To mark this year's IDAHOBIT, Suicide Prevention Coordinators at Neami National (Perth) and Connection and Wellbeing Australia invited a number of Perth's LGBTIQ+ groups and serviced for an opportunity to connect and discussed the work that they do with the community and come together in solidarity.
A panel of representatives from groups including indigenous LGBTIQ+ radio program Rainbow KINection, PFLAG Perth, First Peoples Rainbow Mob WA, Youth Pride Network, GRAI, Bisexual+ Community Perth, TransFolk of WA, Proud Entertainment Group and OUTinPerth also spoke on the theme of visibility and discussed how we can develop allyship and inclusive practice.
The panel and local drag fave Feminem on 17th May was at 221 Onslow Rd, Shenton Park from 10am – 1pm. RSVPs.
Isabelle Lake Memorial Lecture
The Isabelle Lake Memorial Lecture is held in Perth each year on May 17th, the International Day Against Homophobia, Biphobia, Intersexism and Transphobia (IDAHoBIT).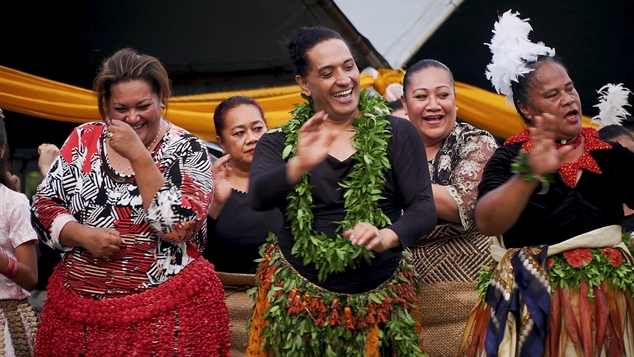 Named for a young transgender activist who passed away seven years ago after a battle with leukaemia, the lecture aims to raise public awareness on issues relating to the trans and gender diverse community. Past speakers have included intersex activist Tony Briffa and Equality Australia's Aram Hosie.
This year the lecture was given by Tongan transgender woman Jolene Mataele. Mataele has been recently featured in the documentary Leitis In Waiting, a film that follows a group of transgender women fighting for their place in the island kingdom.
The 2019 lecture was presented by the Equal Opportunity Commission and The University of Western Australia, and sponsored by PwC Australia, Shell Australia and DLA Piper Australia.
New South Wales
An event named "Fighting not Dancing" was organized on May 17 at 6 pm in Lismore Regional Gallery. In the event, Scott Harrower addressed the history of homophobia in Australia in powerful new exhibition.

Scott Harrower's powerful photographic and sound installation "Fighting Not Dancing" addressed homophobia and violence toward men who love men. Scott Harrower's research led practice investigates both personal and historical stories that have been denied and forgotten. The characters in Harrower's photographs peel away the silence of Australia's past to reveal persecuted convict relationships, post WWII police brutality and multiple unsolved murders fuelled by AIDS hysteria of the mid 1980-90s.
Through the prism of a violent attack at The Fairground, the artist's narrative talks about his life experiences; it has no ending; rather it poses further questions around current debates of religious fervour and the right to discriminate against 'Others'.
"The Marriage Equality debate reminded me of coming out at 16 years old, into a homophobic and fearful society; one gripped by the AIDS epidemic. I fell for a man who was manipulative and very violent; he often threatened to kill me. There was so much judgement around. It was my own living horror film, hence the cinematic aesthetic in the work. Research shows that power based (or situational) homosexuality was common in Colonial Australia, so too were loving bonds between homosexual men. However, because of religiosity, this denied history was unconsciously absorbed into the national psyche as fear and shame. I hope audiences will grasp the long-term impact this can have on a community, especially in today's political debates around equality."
The sound element of the work is an original, project-specific score by New York Composer, Ron Nahass. It was recorded in New York by members of the New York Queer Urban Orchestra.
South Australia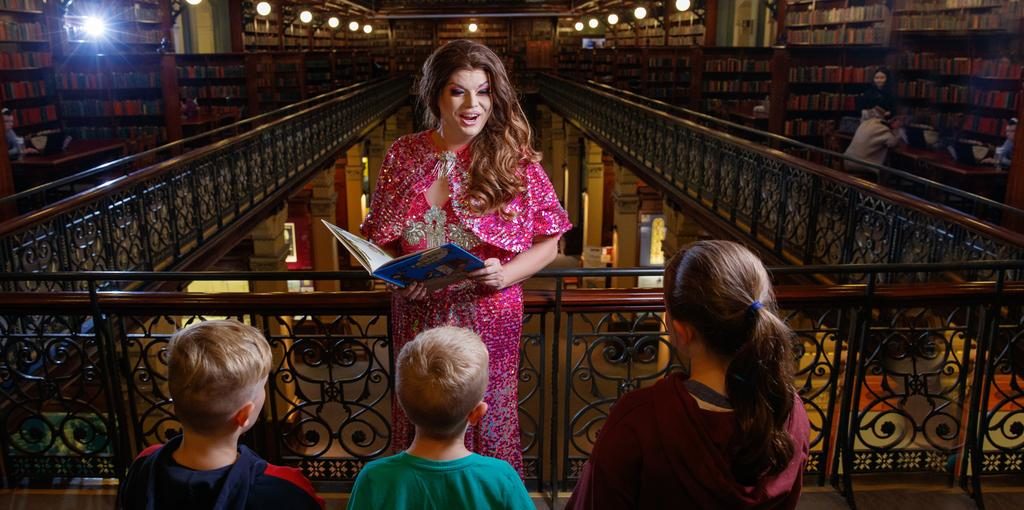 The "colourful and cool" story sessions were among the new additions to the DreamBIG Children's Festival's Big Family Weekend that started on May 25. More than 30,000 people attended the Big Family Weekend, a two-day event featuring more than 50 free performances, activities, workshops and art exhibitions around the Adelaide Festival Centre and North Tce cultural precinct.
Dubbo
ACON held a free community barbecue at Macquarie Lions Park from 11 am Friday, featuring an invitation to pledge to stand against bigotry in all its forms as part of a 'handprint tree' art piece. Service providers from Dubbo Sexual Health, Orana Support Service, Live Better, Headspace, and more were present.
More events listed HERE