Various organizations in Nepal organized different programs on May 17. Instead of the popular acronym IDAHOT, Nepal uses IDaQuMoB : which means International Day Against Queer / MOGAI -phobia.
Queer Youth Group collaboration with Initiative Gay Youth
Queer Youth Group in collaboration with Initiative Gay Youth organized an offline and an online event on May 17. The online event was to write a message on a paper about queerphobia and acceptance of diverse gender identities, sexual orientations; take a picture holding it and then post it on social media with hashtag #IDaQuMoB and #IDaQuMoB2019. The offline event was organized in the premises of LOOM Nepal, Thapathali, Kathmandu. The event saw an hour of open mike, where people of different Queer/MOGAI identities gathered and shared their stories, thoughts and experiences; performed their speech, poetry and dances. An hour of gathering converted into a rally towards Fibwa Khya (Maitighar Mandala). It is the central protest square in Kathmandu. People gathered there for a while and concluded the event.
Sahaayam Nepal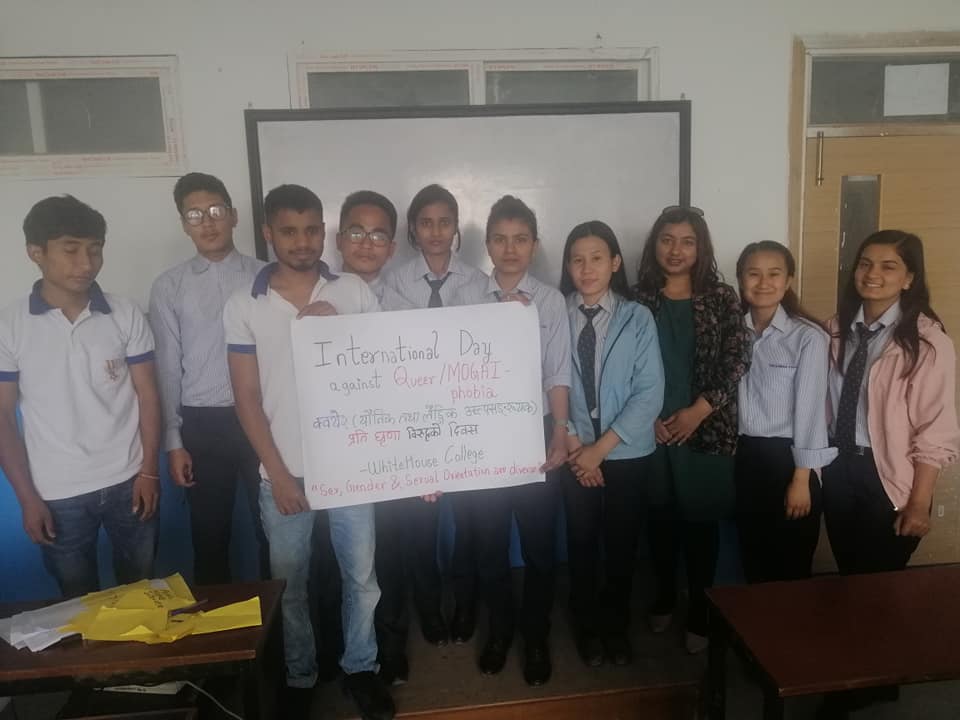 Sahaayam Nepal, a non-governmental organization working on comprehensive sexuality education for students, organized a Diversity Training in WhiteHouse College, Putalisadak. The training was provided to students of Bachelor degree, on thematic issues of Sex, Gender, Sexual orientation and sexual violence. The event aimed to teach student the diversity of sex, gender and sexual orientation which helped them to understand diverse queer identities. Sahaayam Nepal had been gearing up for International Day Against Queer/MOGAI-phobia two weeks prior the event, by running Diversity Training in different colleges of Kathmandu.
Campaign For Change
Campaign For Change (Intersex Nepal), the first and only intersex rights organization of Nepal, has organized a discussion event in the capital on status of intersex rights in Nepal. The discussion was held on intersex-phobia, how not just heterosexual cisgender people in society marginalize intersex people, but also LGBTQ people are intersex-phobic. The event discusses on how globally the day still deals with homophobia, biphobia and transphobia only; but in the context of Nepal, it is broader as Queer/MOGAI-phobia. The discussion was around framing the intersex movement into broader Queer/MOGAI movement of Nepal.
British Council Nepal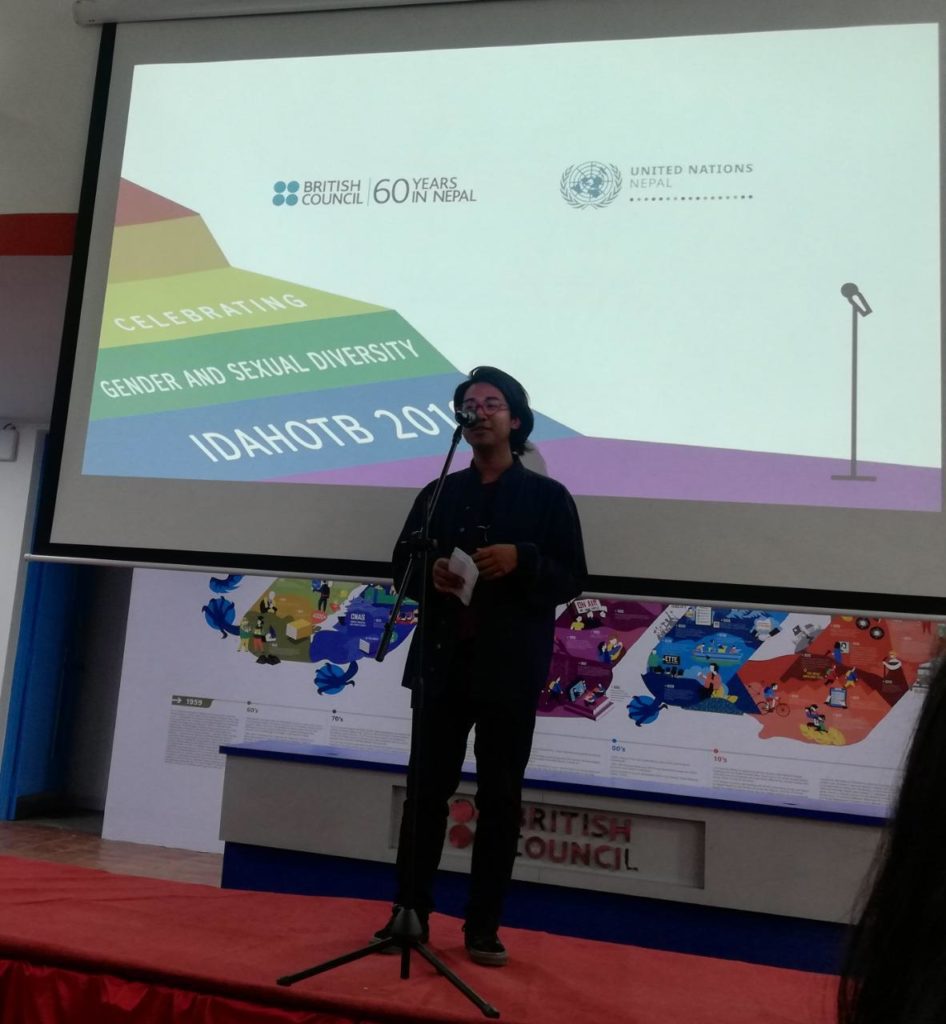 British Council and the UN are offered a workshop for LGBTIQ+ / Queer / MOGAI population on May 17. It was facilitated by the Word Warriors, a Kathmandu-based spoken word poetry collective founded in December 2010. A public event for about 150 people that showcased some short films (subtitled in Nepali) alongside recital of poems by participants of the workshop was also organized. It organized a one day workshop on 16th May and the poetry performance was held on 17th.
UN Nepal
UN agencies of Nepal organized a flag raising program at UN House premises. They invited key-note speakers from different Queer/MOGAI identities. The event saw presence of diverse national and international participants.
Mitini Nepal
Mitini Nepal, a non-governmental organization working for rights of LBT women, organized a reception event under the theme of "Justice and Protection for all" in the venue of Alice Reception in Gairidhara, Kathmandu. The mid-day event from 11 am to 2 pm voiced and confronted thematic elements through the personal and shared experiences of LBTI women and allies.

A book named "Spectrum : LBTI Stories and Call for Justice and Protection" was launched in the event. LBTI women key note speakers shared their stories of life and their own struggles, along their take with the movement. Poetry performance and singing performance were also held.
Newa Queer
The Newa Queer page released a comprehensive terminologies on gender and sexual orientations in Nepal Bhasa. With the lack of appropriate vocabulary in Nepal Bhasa on gender and sexuality, Newa Queer people feel lack of conversation on queer identities in their communities.
US Embassy Nepal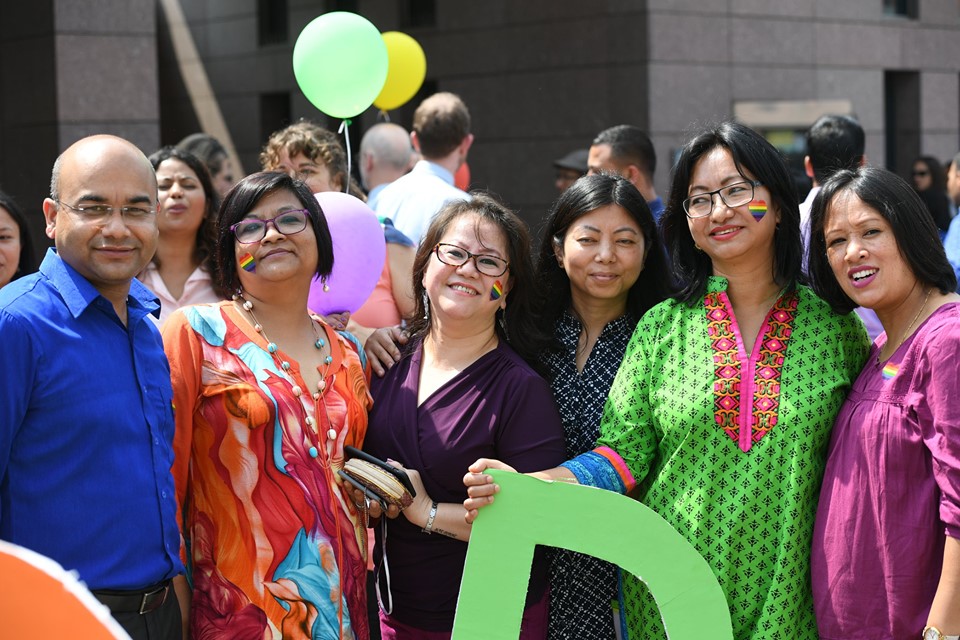 U.S. Embassy reiterated their solidarity in promoting Queer/MOGAI rights and reaffirmed their commitment to stand against discrimination and prejudice. They joined 132 countries around the world to demand the end of all violence on the basis of biological sex, gender identity and sexual orientation. U.S. Embassy Nepal will be celebrating Pride Month : June with different programs.
Federation of Gender and Sexual Minorities
Federation of Gender and Sexual Minorities in collaboration with Right Here Right Now Nepal, organized a Cultural Dance competition in the premises of Nepal Academy Hall, Kathmandu. FSGMN organized Cultural Dance Competition with the theme of Justice and Protection for All.

In the competition, former Miss Nepal Malvika Subba was announced as LGBTI/Queer Ambassador of Blue Diamond Society. A group of transgender men won the competition.
Gallery