From Bay area reporter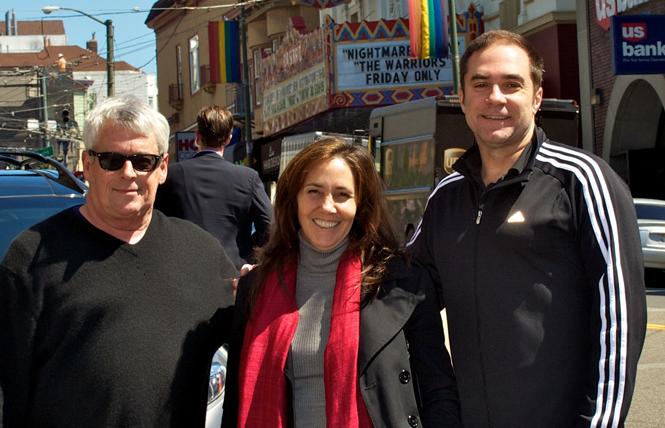 Veteran AIDS activist Cleve Jones, founder of the Names Project AIDS Memorial Quilt, will receive a humanitarian award when he travels to Cuba this spring with a delegation from the Rainbow World Fund.
Jones and RWF will participate in the 12th Cuban Journal Against Homophobia and Transphobia, known as the Jornada.
In a news release, RWF said that Jones was invited to Cuba by Mariela Castro Espin and will receive an award from the Cuban National Center for Sex Education, or CENESEX. Castro Espin, a straight ally and daughter of former president Raul Castro, is director of CENESEX.
During the 10-day trip that begins May 8, Jones will be a grand marshal at the Cuban version of Pride, known as the Conga, held in Havana May 11. A second Conga and related activities will coincide with the International Day Against Homophobia and Transphobia the following weekend in the city of Holguin.
Traveling with Jones will be San Francisco drag performance artist Juanita MORE! and several members of the Sisters of Perpetual Indulgence.
Jones said that he is looking forward to the trip.
"I'm honored; it's exciting," Jones told the Bay Area Reporter in a phone interview. "I've always wanted to go to Cuba, and it's a good time to see what life is like for LGBT people and for people, like myself, who are living with HIV."
The activist also noted that visiting the Jornada is a good way to observe the 50th anniversary of the Stonewall rebellion. The riots, which occurred in June 1969 after queers were fed up with police harassment at the Stonewall Inn in New York City, are often credited with launching the modern gay rights movement.
RWF and Jones have been asked to raise $25,000, which will be used for scholarships to bring people from all over Cuba to Havana and to support the Jornada and other aid projects, the release stated. RWF has a goal to raise another $25,000 to support projects in Cuba.
Ahead of the May trip, local fundraising efforts are already planned.
RWF Executive Director Jeff Cotter, a gay man who founded the LGBT humanitarian organization, said the group will hold a benefit cocktail party in early April. Attendees can expect a silent auction and some of the Sisters, along with Jones, to be in attendance.
Cotter said that interested people can join the delegation. The trip cost is approximately $2,800 and includes a Cuba travel visa (required), all hotels and accommodations, in-country transportation by private van, all meals (except one), all tips/gratuities, translation and guide services, speakers fees, and entrance fees to special events. It does not include round-trip air transportation from the U.S.
"I want to encourage people to come with us," Jones added. "If people are interested in going to Cuba — especially those folks who have never been — and would like to do something a little different than the usual tourist jaunt, I think [RWF] does wonderful work."
According to the release, the RWF delegation is traveling under a special visa that is not affected by the recent restrictions on tourist travel to Cuba. The group will visit hospitals, clinics, and schools, learning about how they function and the challenges they face.
Much of RWF's activities in Cuba are coordinated through the Cuban Council of Churches, the release said. The council, with notable leadership from the Cuban Presbyterian, Metropolitan Community Church and Baptist churches, has been deeply involved with and supportive of LGBTQ rights, Cotter said.
"There has been a great deal of progress in acceptance of LGBTQ people in Cuba during recent decades," Cotter noted in the release.
He continued, "I believe that RWF's delegations have contributed to that growth. After the Cuban Revolution, homophobic policies were prevalent, but today there are public efforts to recognize and support LGBTQ people in all aspects of their lives, including an effort to achieve legalization of same-sex marriage. It's an ongoing effort, and it's inspiring to work with the Cuban people in their effort to achieve equal rights."
Cubans recently voted on a new constitution. The document had included language legalizing same-sex marriage, but a backlash by religious groups resulted in the wording being changed. Marriage in Cuba is now defined in the constitution as "a social and legal institution" and "one form of family organization," reported the Conversation, an independent not-for-profit international news publication.
By definition, the new marriage clause does not explicitly permit same-sex marriage, nor is it strictly prohibited.
This year marks RWF's eighth annual trip to Cuba. Since 2012, RWF has funded humanitarian projects including summer camps for children living with HIV, cancer, and other life-threatening illnesses. The camps teach valuable life skills aimed at fostering a healthy self-esteem, independence, and self-care, Cotter said.
RWF has funded the distribution of emergency relief supplies and food aid to communities impacted by hurricanes. RWF also funds human rights work to help the LGBTQ community including supporting an innovative conference that brought together church leaders and LGBTQ activists.
People interested in going to Cuba can visit www.rainbowfund.org/cuba-travel for details. Donations can be made at www.rainbowfund.org.