Event: A Round Stakeholders Table Interactive Dialogue
Direction: The event will be observed with a Round Table Dialogue on Monday, May 17, 2021, where key partners will converge to discuss  on Human rights, HIV prevention and ensuring an inclusive key populations services in Liberia  , as the world strives to address stigma and discrimination.
The will be two panel discussions. The first will consist of :     The new Global Strategy; How does it address tailored  Interventions for
key and marginalized populations- Madam Pepukai Chekuwa, Country Director UNAIDS
    Why there is a need for need for tailored interventions for key
Populations- Dr. Julia Garbo, Program Director, National AIDS Controlled Program
    The role of the new HIV National Strategic Plan (NSP) in addressing
Key populations – Hon. Theodosia Kolee, Chairperson, National AIDS Commission
The Second Panel will consist of :     National Human rights Action Plan to address LGBTIQ persons and other marginalized groups strategies and mechanisms-  Urias Teh Pour- Director – Department of Legislative Assistant Treaty Matters and Laws – INHCR
    The role of the Civil Society Council in fostering inclusive human rights  advocacy for LGBTI and other key population groups – Loretta Pope Kai, Chairperson- National Civil Society Human Rights Council
    In Addressing the UPR Recommendations what Mechanisms has being put in place to by Liberia to address recommendations of the Universal periodic review (UPR) – Devine Kutaka Togba- Director Department of Human Rights, Ministry of Justice.
The Event will also feature a special poetry title "I am Different "   by Evans L. Adofo a LGBTI Human Rights Activist in Liberia.
Date: May 17, 2021
Time: 10am – 2pm
Info: Event will bring together Civil Society, Government, partners, LGBTIQ organizations, INGO and Diplomatic missions accredited near Monrovia, Religious Community and media as well.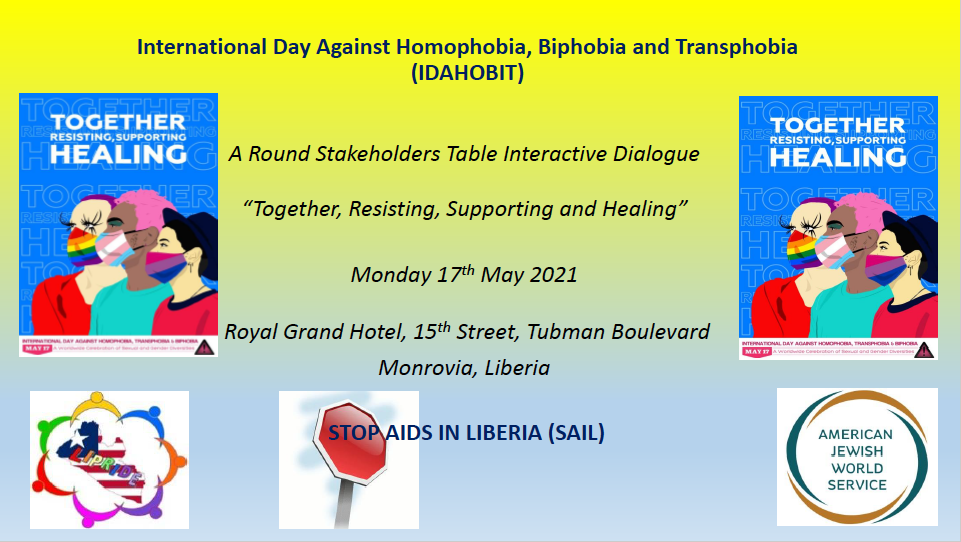 Full report of event HERE